Obituary for Donald R. Farnham
Donald Richard Farnham, longtime Riverside resident, died on February 9, 2020 at the age of 94.
Beloved husband of the late Ann; devoted father of Mary Catron, Therese (William) Kovacic, Donald, Jr (Laurie), Dennis (Susan), Norah Farnham (David Kahle) and Molly (David) Scherer. Fond brother of Laurence, Robert, Ralph, Lynn, Seward (all deceased) and sisters Marian Candee and Rena Williamson.
Donald is the beloved grandfather, great grandfather, fond uncle, and great uncle to the many members of the large Farnham family.
Memorial services at Ivins/Moravecek Funeral Home, 80 E. Burlington St., Riverside, on Saturday, March 21, 2020 from 11:00 a.m. till 3:00 p.m. Interment and Military Honors at Abraham Lincoln National Cemetery on Monday March 23, 2020 at 11:00.
In lieu of flowers, the Farnham family suggests donations to the Riverside Public Library, The Animal Care League in Oak Park, or Catnap in LaGrange Park.

Born in Syracuse, New York on October 8, 1925, Donald was the 5th of 8 children of Lewis and Mildred (German) Farnham. The family lived in the central New York towns of Skaneatlas, Marcellus, and Phoenix throughout Don's youth.
After graduating Phoenix high school in June of 1943, Don enlisted in the United States Marine Corps and was called to active duty in September at the age of 17.
Five of the Farnham brothers served in the Armed Forces during the war. All but one survived combat. Lynn, a flight engineer on a B-17 bomber, was killed when his plane was shot down over Regensburg, Germany in 1944. Don kept his memory alive with honor, even traveling to the Normandy American Cemetery in France in 2010 to view the plaque memorializing his brother.
Don's Marine Corps training included radio-telephone school, advanced infantry training, and amphibious landing training. He was assigned to a newly-forming company, the 3rd JASCO (Joint Assault Signal Company) in 1944. He was sent to Guadalcanal to join the 3rd Marine Division as a radio operator and to be part of a team that directed naval gunfire from shore. The company fought in the Marianas Islands, Saipan and Guam. As one of the Guam Liberators, Don helped capture the island in 36 days of combat. A permanent base was built on Guam and training began for the next campaign. On Feb 1st, 1945, they boarded ship for their next battle, on the tiny Pacific island of Iwo Jima.
February 19th was D-Day on Iwo Jima. The 3rd Division sent in elements on Feb 21, which included Don and the 3rd JASCO. On February 22, his forward team of 5 men suffered a direct hit from a mortar shell in their foxhole on Motoyama Airfield #2. Three men were killed and one wounded; only Don was unhit. Iwo Jima was secured for the Allies after a month of furious combat and heavy casualties. The company returned Guam to begin training for the invasion of Japan; however the atomic bombing of Hiroshima and Nagasaki ended the war in August 1945.
Don was discharged with honors as Private First Class on December 17th and home in time for Christmas, 1945.
Following his Marine Corps training as a radio man, Don studied Radio and Television at DeVry Tech in Chicago and Midland Radio and Television School in Kansas City, MO.
While attending school in Chicago, he also worked for the Material Service Corporation in the quarry in Bridgeport. It was then he met Ann Quinlisk. The two were married in 1948 and lived in Bridgeport until moving to Riverside in 1959.
Don was among the first hired by the American Broadcasting Company when they signed on the air on April 12, 1948, and he remained with ABC-TV for 45 years.
He worked hard and achieved an illustrious career as a cameraman for ABC-TV, where he was able to bear witness to everything from memorable sporting events all the way to genuine moments of world history. His first Emmy came in 1959, when he was named Best Cameraman, TV Programs.
In February 1962, Don was filming as part of the task force ships sent to recover astronaut John Glenn and his space capsule from the North Atlantic Ocean after the future U.S. senator became the first human to orbit the earth.
He was part of the U.S. television crew sent to document President Richard Nixon's historic visit to China in 1972.
Much of Don's career as a network TV cameraman was spent covering sports. He was behind the camera at scores of Monday Night Football and Monday Night Baseball games for ABC, and he was the first technical director of ABC's landmark series "Wide World of Sports" in 1961.
He was a cameraman for ABC's coverage of three Olympic Games. In addition to working the 1984 Summer Olympics in Los Angeles, Don was also sent to cover the Winter Olympics in 1980 in Lake Placid, New York, and in 1984 in Sarajevo, Yugoslavia.
For his work on the 1980 Winter Olympics, where he was flown in and out of his assignment at the downhill skiing venue by chopper daily, he won his second Emmy Award.
His skill behind the camera earned him many other exciting film assignments, such as fashion shows in Paris, safaris in Africa, and cruises to Alaska.
While traveling the world for ABC, Don also served for many years as Union Steward for the National Association of Broadcast Employees and Technicians-Communications Workers of America, Region 4. Fellow members considered him a 'great union guy who truly cared about his coworkers, a true gentleman, and a great photographer'. He was proud to be the longest-serving member of NABET-CWA.
Outside of his professional life, Don was a devoted family man to his six children and all the rest of the extended family. He took great joy in making and keeping new friends, who were also considered family, and they called him by his rightful nickname, "Pops". He was the consummate host, organizing parties for any occasion. Nothing made him happier than to be surrounded by beloved family and friends, circulating among the guests to make sure everyone was having a good time. His mimosas-on-the-deck parties became almost as legendary as his annual Chilifests. In addition to family and friends, the entire neighborhood was usually invited to these bashes, later dubbed "Popstoberfest".
Don was always passionately involved in service to his community of Riverside. Since moving there in 1959, he volunteered for many different groups and organizations. He was a Little League Baseball coach in the 1960's, and did volunteer work for the Boy Scouts, too. He was a 15 year member in good standing of the Lions Club, and was a volunteer driver for People Care for 13 years, taking elderly residents to their medical appointments, and providing cheerful company. Eventually the people he was driving were younger than he was, as he kept this up until well into his 80s.
He is also considered one of the Fathers of Riverside TV. In the 1990s he was a founding member of the Riverside Cable Commission, and served there until he was 90 years old.
These community efforts earned Don the Sheriff's Senior Medal of Honor, in recognition of his volunteer devotion. In fact, April 18th was declared Don Farnham Day in Riverside, and has been celebrated by the family for years, though the always-humble Pops tried to downplay it.
Ever the patriotic Marine, Don was a fixture at every Veterans- and Memorial Day event around the community, where he humbly shared stories of his service. He also maintained contact with his JASCO fellows and attended many reunions and events with them across the country.
His month on Iwo Jima in the Pacific made indelible memories, and he returned three times to the island in his later years. The last time, in 2015, he brought an American flag with him and had it flown over Mount Suribachi, where Marines had planted the U.S. flag during the heat of battle 70 years earlier. That flag is currently displayed inside the Riverside Public Library. He also visited Guam on these occasions, where the residents gratefully honored him as a Liberator of the Chamorro people.
A true animal lover, Don lavished affection on countless dogs and cats through his life, most of them rescues. He accepted less conventional pets brought home by his children, as well, and always kept his bird feeders filled and provided shelter and snacks for the local squirrels and deer that frequented his yard. His cat Ripley misses him terribly. Always a softie for a stray, Don donated regularly to the local animal shelters.
He was also hilarious, and kept everyone laughing with his pranks, jokes, and Far Side humor.
Don was an avid Chicago sports fan, especially the Bulls and the Cubs. His garage was the gathering center for friends and family to watch countless games, and many a party happened there whether the home team won or lost!
Pops was generous with his time, his friendship, and his love. He maintained friendships formed decades ago, and continued to make new friends everywhere he went. He showed his love every single day. When he received his diagnosis of pancreatic cancer in September, he told his distraught family, "No long faces! We're going to keep this party going". He faced his life the way he faced the Battle of Iwo Jima as a young Marine—with courage and love for his family and his country. The world would be a better place if everyone took a page out of Pops' book. We could honor his legacy by treating one another with kindness and respect, being open and friendly to new faces, and of course, playing practical jokes on each other.
And by all means, let's keep this party going.
To send flowers or a remembrance gift to the family of Donald R. Farnham, please visit our Tribute Store.
Upcoming Events
Celebration of Life
Ivins-Moravecek Funeral Home
80 East Burlington Street
Riverside, IL 60546
Graveside
Abraham Lincoln National Cemetery
20953 W. Hoff Road
Elwood, IL 60421
Cemetery Details
Location
Abraham Lincoln National Cemetery
20953 W. Hoff Road
Elwood, IL 60421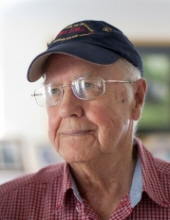 Thank you for sharing your
memory of Donald
Provide comfort by sending fresh
flowers from our local florist.
No thanks, please don't show me this again.